Reviews
Here are just some of the wonderful reviews emailed in to us from our customers.
I have been using Ay Up lights for adventure racing and mountain biking for over 15 years. In addition to the light output from the various types of beams (flood, intermediate, narrow) Ay Up lights and batteries are so tough and durable. They are long lasting and perfect for anyone wanting to be able to move fast through the night. The battery life can be optimised by running the lights on a low setting, but still give off heaps of light. Batteries can be repaired and lights....well these seem to last forever! Awesome product! Kim
Bought in 2008 and 14 years on they are still going really well although two of the small batteries were stolen along with a light and harness 2014. I use them for everything. The head torch harness is an absolute must. Came here to order a new harness after all these years. Arran
Bought these back 07/08? Reviewed 2018 and now, yet again. Still going, as good, have absolutely hammered them, lost a light after spill, found it with a Metal detector, 2 weeks later, buried in wet mud, cleaned and still fin e. BRILLIANT! AM LOOKING AT GETTING LATEST SET. CAN ONLY RECOMMEND HIGHLY ! Mark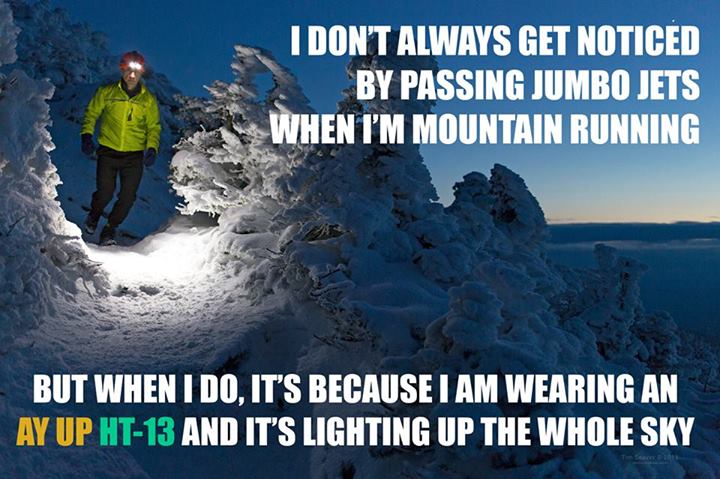 A large passenger jet passing close to me saw my HT-13 while I was doing some night photography on Camels Hump, (the second highest peak in Vermont, with a very small, promontory-like summit) and mistook my summit antics with the light as distress signs, and reported it for a possible rescue. I was down the mountain just as a very nice officer arrived, so I was able to explain what I was doing. She was actually pretty amused, so it all worked out well.
So now I know to be careful with the awesome power of the Ay Up HT-13
Worlds Most Awesome Lighting System
Tim
Many thanks for repairing the lights. I can't tell you how many people have commented on my lights over the years. Many have gone on and bought them and been just as satisfied. One if the big differences between your product and the cheap imports is service. If there is an issue it is sorted. No hassles. That's always worth it in my books. Many thanks and happy to be quoted as a satisfied and long standing repeat customer. Regards Richard
I received my lights today and they are awesome! By far the simplest and most efficient systemI have ever seen. I love the simplicity of the mounts (especially the handlebar mount) and the weight of the system. I can't thank you guys enough. Thanks Ray, USA
Got my delivery today and items arrived in perfect condition. Great looking AY POD and keeps all lights/accessories in a single storage. Reasonable price and shipping costs. Thanks for the super fast shipment. Looking forward to fixing the lights for my first night ride. Will definitely do business again when the need arises.
I am writing to thank Ay-Up for the incredible service I have received in the past 5 days. Quite honestly I am astounded that I have received my package in such a short time, considering I am at the other side of the planet! It has been an absolute pleasure to give you this business and I will be recommending your service to all of my friends. Such a quality product matched withquality service. Thanks again Steven
I purchased your light set for the 2013 wembo 24hr mtb world champs and wanted to say thank you for a great product, you have helped me to 6th place in single speed and had a great stint in the night thanks to your product. A very happy customer :) Mark
Hello to all at Ay Up
The light has been returned and fixed many many many thanks for that and so quick too! Customer service is amazing and I can only say that I will always be buying my lighting system from yourselves. I have placed a comment on my club forum and other cycling sites i am a member of about the quality of the lights but in the after care service you provide, you put some local bike shops to shame with the quality of customer service you provide you really do.
All smiles here anyway. Take care Joe
The new Ay Up Light was fantastic! It was just like running in a fully lit room. The light is more powerful than the sun with 700+ Lumen Light with Flood Beam. Photographers Camera's have problems taking photos of it whilst the light is switched on. I had no troubles running through the tough technical terrain of the Wentworth falls area of the Blue Mountains in TNF100 to secure 3rd position and a 15min PB in TNF100. The Ay Up was a perfect even light over any surface. The new Cree LED and optic evened out the shadows around rocks and I did not trip once in the last 10 km of my 100 km race. The head strap was comfortable and did not bounce on my head whilst running over stairs, rocks, creeks and roads. The button was easy to control the settings. I reallyrecommend this light to any endurance athlete. I can't wait to test it to its full capacity whilst running the UTMB in August.
Well what can I say. The new lights performed incredibly well on the night sections at TNF100. I was actually running pretty well this year and so didnt need the lights until the last section. They scared the bejesus out of other runners and I passed heaps of people on the trail. Even other AY UP wearers felt intimidated. Definitely gone up a notch !!! Well done.
Here it is..... the AY UP HT13! These are the awesome lights I have been testing out! They lit up the forest at Geoquest, and have been proving very effective in our winter Night Runs and Night Navigation Training sessions. If you are looking to upgrade.....you can't go past these, as not only can you use the light for trail running, you can put the light on your helmet/handlebars, if you already have the attachments. The new head strap is extremely comfortable and the way the battery locks on is better when going through really thick bush! I think the battery life is actually more than the specs suggest......so you can go all night on just one battery (a bit bigger than the 1/2 epic, but a bit smaller than the Epic). This is definitely worth considering.
Happy North Qld customer
Hi Mark, WOW!! Just Wow. The kit arrived this afternoon, not even 24hrs after leaving Brisbane, and that was out in the sticks of Atherton, not just into Cairns. I am very impressed with StarTrack couriers. Kit arrived perfect condition (wife has recieved two different parcels recently and both have been damaged goods inside an apparently good looking packaging).
Shipping aside, the batteries were put on charge straight up, while one light unit was assembled onto my helmet (Allrounder). Some time later, a friend turned up for an unexpected night ride (woohooo), I gave him my magicshine to use, and I took just the allrounder on my lid. I used to think the magicshine gave a good spread of light. It positively looked like a pencil beam next to the allrounder tonight. Sooo happy with the allrounder, I cant wait till next night ride to have the Intermediate beam as well.
My magicshine used to be on my helmet, I tried mounting the battery on the lid too, and found the weight would shift the helmet on my head unless supertight straps were done, and I also got headaches because of the weight up top, so the battery pack mostly went in the backpack. The ride tonight with light and battery on the lid, honestly didnt even know it was there, apart from the awesome light, it felt like the helmet was bare on my head. Sooo happy from this point alone. Now I feel like I am gushing....
The point of this email...Thank you very much, awesome product, happy customer. Regards, Will.
MTBR independent reviews here (note their video is 2 years out of date)
I used the lights on the helmet in the interim last night. A fantastic light. I don't know how I survived with out them. The product is outstanding and it was the safest night ride I have had.
Cheers Tim
Hi Guys, Wow, I just had to drop you a line to say how happy I am with my new lights. They look and perform fantastically and to order them Wednesday night and have them on my door step on Friday morning was just great. It has been a pleasure to do business with you and I will be highlyrecommending your lights to all my friends. Yours sincerely, Trevor
Hi,
Have had my Ay-ups for about 18 months - explorer set - and they are just as good as they were new. Use them for all sorts of stuff - single track, road riding, walking at night (cars wonder what the hell?), mowing the lawn at night, spotting wildlife, checking out the lambing sheep without walking down the paddock, scaring foxes - whenever we need light. Didn't think I'd use the headset much, but it probably gets most use of all, just around the place.
They're light, bright, great battery life & all the attachment systems work really well.
They are just great lights.
Cheers
Kate (gippsland)
Happy UK customer
I have just had my first night ride on the adventure 4's, they are jaw droppingly amazing! I'llrecommend these babies to anyone!! Bring on the dusk 'til dawn races.
hi to you all from a fellow cyclist on the other side of the globe......the lights arrived this week and are a whole league better than those i used before, thankyou very much!......happy riding to you all.....darren
UK Facebppk comment
Good to see Matt Baker of the BBC using Ay-Ups for his charity rickshaw, no doubt you sponsored the event, nice work.
Ay Up - Yes we did and donated the 2 x V4 kits that was used for the epic ride for auction
Sir/ma'am, I don't do many reviews, but when I come across an AMAZING product I feel compelled to do justice…I will say hands down these lights are OUTSTANDING from the packaging to the shipping. As far as the functionality, design and the ease (ok somewhat) ease of installation is also top-notch. I even ordered a few more mounts for my wife bike.
As a U.S. Air Force service member, I have used the headlamp at work when I must have night time visibility and I get nothing but compliments and I am sure a few of my fellow airmen have ordered since then. I even turned my local bike store into inquiring about purchasing your lights to stock. He was also amazed how bright I was on the trail…I have used Cygo and NiteRider and these can't hold a candle or Lumen (no-pun) against your lights…They also seem extremely durable and don't move once mounted no matter how hard you drop you bike. I am going to mtbr.com to post my review there also. You guys rock!!!
V/r, Mike - Tucson Arizona
Hey guys,
Just a quick note to say; these lights are awesome!!
I use them on the daily commute but they really come into their own on the trails - even the techy stuff! All who see them can't believe the power that comes from such a neat and lightweight set-up. I've done the Facebook 'like' and will recommend them to anyone who will listen!
Cheers, Ross
Hi there,
Just purchased the V4 version of your product. Posted to the uk, it took 4 days including over the weekend!! ultra fast delivery, pairing them up with my friends older version, the 40% brighter version WOW! they make such a difference!
Just like to say a big thanks. Saved me a load of money instead of buying a Lupine kit! For how much they weigh and how bright they are there fantastic!
Thanks again, Regards, Chris
Hi AyUp
Got the delivery this afternoon. Just installed everything and did a test ride. Everything works perfect. Cant wait for real exercise to morrow. Thx for excellent service I will recommend AuYp to everyone in my club :-)
Regards, Frank
Denmark
Hi, Just a quick note to let you know that I got my repaired light in the mail today. Thank you very much for sorting that out for me. You are obviously already aware of this but, providing a great product is only half the battle in business. So many companies manage that first part but fail dismally when it comes to follow-up support. You guys clearly understand this important truth and I've been extremely impressed with the care and support that you've offered me in having my lights repaired quickly and at a very reasonable cost. I was prepared to happily recommend Ay Up purely on the basis of the quality product but you now have a fan for life! Congratulations and keep up the good work. Cheers, Gary
Dear Sirs,
I received my ay-up lights back from you yesterday and wanted to drop you a line to thank you. I walked the dog last night; your lights are fantastic for this as well as my bike. I turned the lights on and instantly had a smile on my face – you know why your lights are simply the best and I do too – soon all my mates will as well – they were envious before and now they will be in shock! Thanks again Richard
Dear AyUp,
Really like your lights. As varous Lumicycles and dinottes give up the ghost, we are gradually replacing them with AYUPs. Theo UK
Hi!
I just wanted to share with you guys how fantastic your light systems are!!!!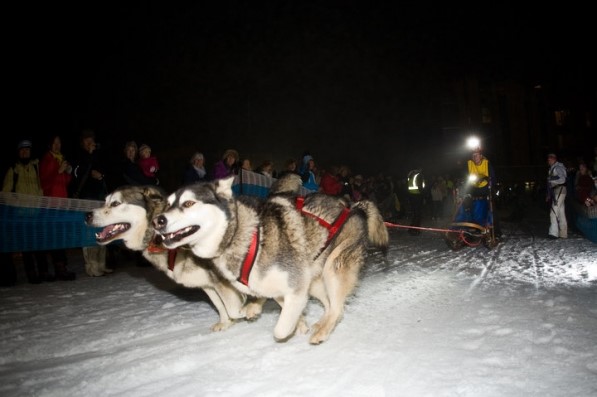 They allow me to train running my dogs at night (at Peachy State forest, near Toowoomba) and to also compete in the first sled dog race at the Falls Creek Snow Resort, Vic. The atmosphere at this race was electric! Especially for the only Queenslander in the race! I also competed at the Advance Sleddog Challenge in Dinnerplain, Vic. During my stay at the Dinnerplain resort, because of the brightness of the ay-up lights I took my sled dog team out for a run at midnight through the snow and it was fantastic! Thanks for a great product, made in Australia! Regards Tamar
WOW! I placed my order Sunday night my time and the lights came in yesterday (ed. 4 days from Australia to USA). I briefly played with them, but haven't really used them yet. I imagined you were a small time company making lights in your garage. I couldn't have been further off. I was blown away by the quality of the packaging. I know a bit about manufacturing and you've got more time and money invested in packaging alone than some companies have in their lights. I ordered them for my Christmas present early in case there were any delays in shipping so I'd be sure to get them in time. Sadly, I had to surrender them to my parents to sit under the Christmas tree for another month. Someone spent a LONG time working out the details of the orange case everything comes in. Thanks for the fastest shipping I've ever seen.
Charles H, USA
See the start of the Ay Up Dusk Till Dawn 2009 on Youtube here
UK review by Gary, Mountain Bike Instructor - Aug 2010

The bike kit is staggeringly good. Used for the first time last night over two hours on technical, wooded, single-track that I'd never ridden before, and (as far as is possible to gauge) I don't think I'd have been going any faster in daylight.
The lights give complete confidence, instantly. There simply isn't any "getting used to" them, you just ride without thinking. I was taking rough ground, gullies, drops and jumps on-sight, at pace, without any degree of hesitancy. The units never needed adjustment, as are seemingly impervious to trail wobble, and the gecko system on the helmet was comfortable, and un-intrusive. This is genuinely "fit and forget" stuff.
I'm hugely impressed by the quality of the light output. Having used a variety of headtorch/lamp combinations in the past, I'm overwhelmed with the consistency, clarity and colour response of the beam. There are no dim spots (or bright patches), and the depth perception even with just one light-unit is excellent. A lot of the sandy trails I run and ride can appear to go "flat" under certain weather/light conditions, so I was really impressed with the level of detail they pick out.
With regard to the intensity of light, I rode almost exclusively with the lights on their lower setting, as I'm most interested in their performance as an endurance product. I can see why you don't advertise this as "half power", as the step down is marginal, considering the extended burn time this level offers. I can see the full power level being really useful in bleak weather, really technical trails, or just when the brain starts tiring, but also for navigation across more open ground that I was riding last night. The narrow beam on the helmet is certainly useful for picking out features either stationary, or on the fly, and this is what I've always looked for in an "adventure" set u
If you are already a valued customer and want to spill the beans on your experiences with Ay Upper's, drop us an email and we'll publish it.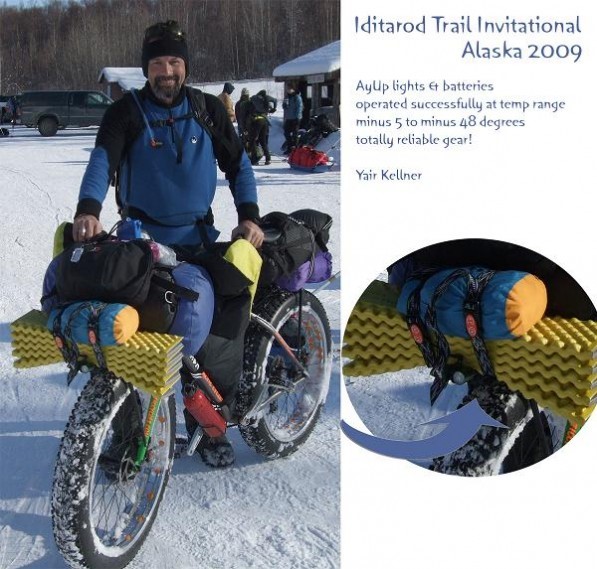 Endorsement from James Cracknell on his recent world record attempt with Rebecca Romero

"Thank you so much to Andrew and all at Ay Up Lights for their support for my recent world record attempt with Rebecca Romero to cycle non-stop from Land's End to John O'Groats on a tandem. The super powerful Ay Up Lights for both bike and helmet were invaluable to see us through the night – they lit up the road ahead and made sure we were safe by making us as visible as the cars on the road the lights were so bright! Everyone kept asking us where our lights came from as we went along."

Read more about their attempt here
Review from Andrew Bell, Australian 24hr Champion
Ay Up have set out to achieve what no other lighting company have - to produce an extremely lightweight lighting system practical in just about every way possible ……. read more here
UK Review
Dudes...

Ordered my lights from you guys only a few days back.. they arrived all the way here to UK in super quick time and riding the trails in the dark is now like riding in daylight..!

can't describe how pleased with the lights i am...!

thanks dudes

jez
Review from a US customer
Ay Up! Stunned. Absolutely stunned.
1. Wicked fast shipping.
2. Amazing design. Someone agonized over details, bravo.
3. Is this all it weighs? Really?
I put my Ay Up! set up against my HID, (you know I would), against a wall in my house. The HID was completely drowned out. I bought your product thinking I'd use the HID as well until the ballast died because the throw is so good on HID's. Blah. Whatever. No point in carrying the weight. HID, meet Ebay. I found your gear from a MTBR.com light shoot out, maybe it was my years in yachting and scuba working with Antipodeans that gave me a sense of admiration for things down under, but I just love a simple, powerful design.

I suspect you'll have a solid following in the race community as well as the all-year riders like myself if we all knew about your product.

Anyway big thanks for making a solid product.
Best of luck.
Can't wait to hit the trail at night.
Kevin
Hi guys,
Bought the road version of the lights about 12 months ago now and on my recommendation have 2 mates/riding buddies with them who are also smitten by them. Wife was envious so sorted her out too with a light/battery set to replace other recharge sh-box suppliers.
What can I say, light, compact, fast recharge and massive battery life with the brightest of lights which have motorist perplexed when you ride 2 abreast in the wee hours of darkness pre sunrise.
Thanks for the quality product
UK review
Hi Ayup.
I'm not the best MTB'er in the world and it's unlikely that I will ever be. I ride for "s%@ts and giggles" as we call it. However I got invited to be part of a team at the Bontrager TwentyFour12 Endurance event which meant upgrading my 4 year old Kona, getting some lights and for the first time buying a helmet. (Which I found out later was a damn good idea)
After blowing my entire budget on a Yeti 575, and then being forced to buy what was the most manliest helmet I could find. I was faced with getting some lights.
Of course being in the UK I started down the exposure route, then the Hope route (I didn't fancy changing my stem) Looked at the cateyes, then got confused and asked a mate who races for some help. He said Ayup and I said I thought you were from Bolton not Leeds. He went no ya fool get some "Ayup lights" he'd tried all the others and had found these were brilliant. He then went onto show me how good they were and then dropped them into a bucket of muddy water whilst they were switched on to show me they were waterproof. As they shone through the murky water he said you won't get that with the exposure ones. It took them 4 joysticks and a couple of maxx ones for them to finally admit they weren't waterproof, and they'd only been out in the rain. So on such a recommendation I did what I could to order them. I was bit gutted to find the uk place was no more. But nevertheless I order from your Australian site and they were here within days. . . complete with a bill from the UK govt pay up or we break your legs taxation dept. but still the whole price was less than it would have cost me to purchase an exposure unit. Not only that I got 2 sets of lights and 3 batteries 2 x 3hrs and a 6 hr.
So the weekend just gone was the Endurance race. We were a team of 6 and competing just for fun. Exposure heavily sponsor the event and were offering a discount to anyone who wanted to buy some lights. So I was the only one on our team with Ayup's. I was also the only person on our team who was still riding at 2 o'clock in the morning. After one lap everyone else's lights were on charge in the exposure tent. One of our team halfway round didn't see an object on the trail and as a result stacked his bike and went down so hard his BELL helmet broke in several places. So he couldn't race. Another guy went out and came back 20 minutes later saying he couldn't see squat. And so I took up the reigns, did a couple of laps so the others could get their light charged, and or the sun came up.
I have to say whilst riding around, my skill with a bike on a course is rubbish, I'm just starting out. But in the dark I could catch and overtake other riders that in the daylight left me for dust. So the lights helped me feel a little bit better then I was.
It was also good to see the Yeti team riders had Ayups on. I felt even more special then. Unfortunately I'm not as good as them, and I have a bigger belly but still. I felt like I'd made a brilliant decision to go for the Ayups.
So my apologies for the longwinded email. I just wanted to say thanks, and tell you how well they have performed compared to your competitors. Even those that were sponsoring the event. I get the feeling that if everyone was using Ayup's they wouldn't have needed a charging tent :)
So utterly brilliant lights, the confidence and light they give honestly had me riding at the same speed I was riding in the daytime. And I can see why my mate swear by them, and why he uses them for his endurance xc events.
So thanks for everything and hope the feedback is of some use somewhere along the line.
Best Regards
Tony
Classic review ...
I was commuting home tonight on a dark and rainy Melbourne night in my full Ayup glory (Bars and helmet mount) when I came to a roundabout where the traffic was not moving. I rode on the inside of the queue of cars to get to the round-about when a lady in the front car who passed me earlier, was stationary and was now holding up the traffic wound her window down and asked me 'where did you get those lights'. I answered dubdubdub-dot-ayup-dot-com-dot-au in my thick Geordie accent and she looked at me confused, I repeated myself about 3 times while the cars behind where now beeping their horns before she said 'your lights are great' and then she drove off .....
Review from Pete, a Unicycle Rider see here
"Months after the initial purchase I am still happily buzzing around the Wombat Forest with my Ay Up! lights. The Ay Up! lights work as advertised - super low weight, bright, tough, small, long burn time, versatile mounting system, and oh yeah, don't cost a fortune. Perfect for Mountain Unicycling. It's as simple as that!"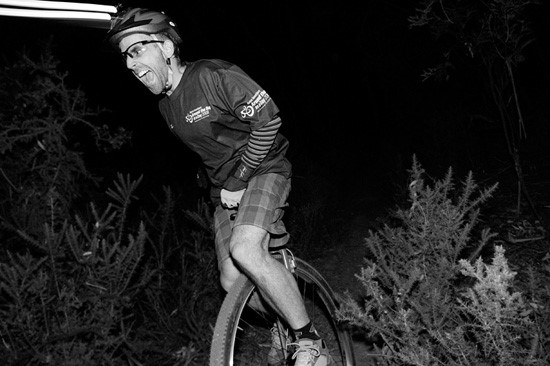 Hi – I haven't been able to pick anything in my AYUP experience which has not been sensational.
The product arrived (to Perth) the same day I got my shipping confirmation (a day after shipping), installation was a breeze and the light is as bright as I could possibly want (in fact, so bright, a police wagon went to do a u-turn and pull me over for high beam before he realised I was just a bicycle and changed his mind, driving off shaking his head in dismay).In the short week I have been using the light, my buddies have gone and ordered the same and I have had three strangers ask me where I got it and how much it was. I did a bunch of research before purchasing and the light is every bit as good as your claims. My only regret is not buying the bigger Enduro kit. For anyone hesitant of buying the MTB / Enduro but not sure whether it will be worth the investment (or spending small on the multisport kit to check it out first), then don't bother. It is well worth the upgrade up front. I will end up buying another Enduro Kit for other bikes just so I have my bases all covered!
Cheers and thanks for a kick-xxxx bike lite!!!
Hi guys,
Just wanted to drop in and say that I think your lightsets are nothing short of amazing. I live in Missouri, USA and ride all kinds of stuff road and mountain. My buddies and I ride your lights and are so pleased with them and just wanted to let you know how happy we are with your product. Thank you very much!
Sincerely,
Joel Gerhardt

Andrew and Team,
Just wanting to say thanks for the effort you guys put in at Insomnia 24hr. Me personally, I have my Cree's plus spares and enough batteries to power a small village! My appreciation is directed towards the effort Ay Up put in for the kids races. Whilst I love racing and I have a group of good friends who band together and make these events a real hoot, it is my long term goal to ride with my boys. Getting them onto bikes now, and having fun is the key. They have been resisting so far, as the unknowns of the "first event" have always won out.
Aged 8 and 10, it took a lot of convincing for them to try their first race at Insomnia. Incentivised with the potential of their own cycling jersey's I was able to convince them to have a go. They rode in the day races and really loved it, but it was the night race with lights that really won them over. They loved it. I loved it. The banter at home that night about their races and how different it was with the lights, negotiating the mud hole, taking the jumps and what they plan to do next time……………it was music to my ears. I wouldn't be surprised if saving for that new Lego model is soon replaced with saving for a set of Ay Ups!!
This kind of effort is above and beyond what I expected out of any race sponsor. Well done and thank you very much.
Looks like I'm off to buy some cycling jerseys!!
Stu

LOVE THE LIGHTS.

Rode about 46km on bitumen tracks this evening (a ride we do weekly) and we averaged about 2km/h faster than usual (and I also felt I was not trying as hard). I was much more comfortable flying into and around corners, now being able to see ahead! It makes such a difference to be able to see the corner you are turning into! Cycling in peak hour on the main track running from the Melbourne CBD out to the Eastern Suburbs (Gardiners Creek Trail), I saw no other lights as bright or effective. I also found people were quite happy to sit behind me to enjoy the benefits of being able to see where they were going. Nobody passed us tonight! I also found I could sit with about 2 people in front of me and easily light the way for them in the corners. Im now even more eager to get out there on the bike in the evenings! Please pass on my thanks to everyone involved in the
production of them!
My lights worked an absolute treat during the Scott 24hr .
I was thoroughly entertained when waiting in transition at midnight, 3 guysto the left had AyUps and 4 guys to the right also had AyUps.
Talk about market domination!!!!!!
Thanks

Met Brendan, borrowed a 6hr battery as planned. This was my first and
probably last attempt at a 24 hr event solo. I completed the race, only
stopping for fluid and food refills - your lights are awesome, and it
seemed almost every third rider had them - so the proof is obviously already
there.
Cheers and thanks once again
Happy customer

Thanks heaps for the lights! They worked brilliantly and I will definitely be recommending
them to others.
Hi Guys,
Just wanted to provide you with some feedback, have tried out your lights over the weekend
during the scott 24 and had immense satisfaction with them. Easy to setup and use, the
lights enabled me to race at great pace with maximum visibility and security! So thank you
very much!
Thanks Guys, I've never heard of such brilliant back up from any other company before. I'm currently packing to go down to Canberra and wondered if I should take my old lights as a back up despite my confidence in the Ay-up system ,accidents do happen. Anyhow I'm doing solo in over 40's and will be on the podium at the end. Thanks again John Evans. Team Unstoppable.
P.s. I really like the System more because you sell extra bits and batteries at a fair price.
Wow respect!
Like your strategy guys.
Besides your product is so good its gonna sell itself anyway.
All the best with the business
Race report of D2D - Queensland 2008 by Andrew Fellows
AYUP 12hr

'Beat the Heat' soon turned 'Beat the Rain' at this years AYUP 12hr. With the event being cancelled once nothing was going to stop it this time!

Arriving at 5 to register for a 7pm start was great, I thought I would be able to help Andrew from AYUP with light demos, but to my surprise he was pretty much already out of lights. I think AYUP demoed around 80 sets of lights to the general public! That's massive; nearly every second rider was sporting a set of these powerful, funky looking L.E.D lights.

After a chat to some of the competitors it was revealed that the track has held up well after the massive amount of rain the area has received in the last month. Mind you, we soon found there were still a few mud holes out there!

The racing was fierce, as many teams battled it out, with the big hitters lapping in less than 23 minutes for the 10km course. The real battle was in the solo class, Andrew Bell had his work cut out for him as Craig Storey remained on 2 minutes behind him after 6hrs of riding. In the female class there was a battle between local favorite Prue Owsin and Victorian Alex Kiendl. With Alex eventually proving why she is one of the best in the business.

Racing conditions were great, although the wind picked up in the wee hours of the morning the rain stayed away and the stars were ou